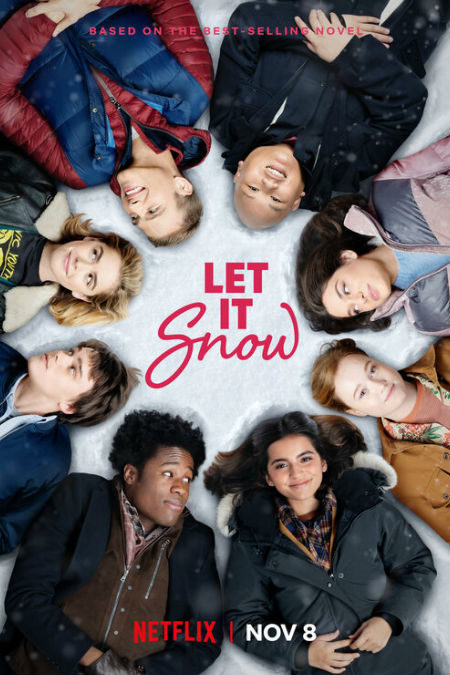 SNAPSHOT
For those who haven't read the book, Let It Snow, the novel, is essentially three holiday-themed romantic YA short stories that eventually intertwine together. The first story, written by Johnson, is about a young girl named Jubilee (Merced) whose train breaks down in a snowstorm. Luckily, she meets a cute boy named Stuart (Moore) who helps her brave the cold. The second story, written by Green, follows a  boy named Tobin and his two friends, the Duke and JP, who realizes—after a wild night at the Waffle House—he wants to be more than friends with the Duke. The third story, written by Myracle is about a girl named Addie, her boyfriend Jeb, and a teacup pig. (It's a long story.) (synopsis (c) Decider)
It's beginning to lot like Christmas.
Or possibly not; as I noted back in my 2014 review of the book, Let It Snow, hoping and dreaming for the most wonderful most wonderful time of the year doesn't always result in a perfect festive season.
"But despite our best efforts, and as the frenzy of gift-buying, decorating and partying would suggest, we give it everything we've got, not every Christmas manages to live up to this impossibly wondrous ideal, and it's this idea, of an imperfect Christmas that doesn't quite play out as planned, that forms the centrepiece of a collection of three holiday romances, Let It Snow, by three of the brightest voices in Young Adult literature, John Green, Maureen Johnson and Lauren Myracle."
But is disappointment the end of things? Not at all.
"And that is what you need to keep uppermost in mind when you embark on reading these witty, playful and teenage earnest tales of love, romance and the dogged pursuit of Flobie Santa Village pieces and hash browns – even as they explore the unravelling of the archetypal perfect Christmas, they happily entertain the idea that romance, blushing, enervating, joyful, all consuming romance is waiting at the end of these frayed, initially dispiriting threads."
You get a good dose of reality but lots of festive happy endings, all of which makes Let It Snow the most delightful, funny and playful of holiday stories.
Let It Snow debuts on Netflix on 8 November.