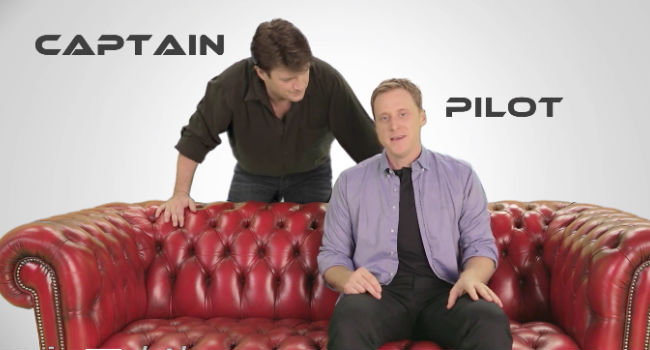 SNAPSHOT
Con Man centers around the post-show life of Wray Nerely, (Tudyk) the pilot and co-star of SPECTRUM, a sci-fi series which was cancelled before it's time and eventually became a cult classic beloved by fans. Wray's good friend, Jack Moore (Fillion) starred in the series and has gone on to become a major celebrity, while Wray continued to struggle to find his big break. While Jack enjoys the life of an A-lister, Wray tours the sci-fi circuit as a guest of conventions, comic book stores, and lots of pop culture events. The show will explore all the weird and crazy things that happen to Wray along the way, while telling the story of a guy learning to love and embrace his fans. (synopsis via Slash Film)
A glass-half-full mentality can only get you so far when you're a diehard Firefly fan aka "Browncoat".
All that wishin' and a prayin' – well clearly not on Mal's ship of course! – for a second series of the much-loved and ended far "too soon" show which was cancelled by "A Network" (watch the trailer, or read further down, to get this particular running gag) has so far come to not much of anything in this great big 'verse of ours.
However, what all that barely-reined positivity has got us is almost as good. (I said "almost"; let's not get carried away here people!)
Alan Tudyk, writer/director/below average carpenter/actor and Firefly pilot Hoban "Wash" Washburne,  has joined together with producer/makeup artist/hairstylist/wardrobe stylist, and naturally, Firefly captain Malcolm "Mal" Reynolds, for an Indiegogo campaign to fund an exciting new comedy series called Con Man, about stars of a defunct sci-fi show, Spectrum, which was, COINCIDENCE!, cancelled "too early" by "A Network" and …
Yeah, completely a coincidence right? No art imitating life or anything is there? Naaaah, purely coincidence …
Anyway, as with all of these types of crowdfunding offers, there's a host of goodies attached to the various contributor levels but perhaps the richest gift of all is simply the kickass wonderful pitch video, which features appearances by the likes of Sean Maher, James Gunn, Seth Green, Gina Torres, Amy Acker, and Felicia Day, and the gleefully childlike enthusiasm of both Tudyk and Fillion:
"If you've gone to a sci-fi convention, you've only seen half of it. Con Man delivers what convention 'All-Access' passes have only promised in the past. I've been to conventions from San Diego to Dubai and I have so many great experiences to share through the world of CON MAN. The sci-fi fans have changed my life and I want to give them a chance to see a new view of the world they built. I hope that the fans will join me in making this series a reality by supporting my Indiegogo campaign." (Tudyk)

"I'm here to say, 'WOOOO!' and you can quote me. Let me explain: Alan has, for the entire time that I've known him, never failed to impress me with his talent. Don't think I'm blowing smoke here, because it kills me inside to say it, but he's better than me. We've all seen his acting, but until you know him as a writer, you're being short changed. I'm not one who needs to fill every waking moment with the 'next project', but I truly believe people need to see what Alan is capable of, and I'm ready to do what it takes to show them. So, buckle up, peeps. Alan's driving, and I'm sticking my head out the sunroof screaming 'WOOOO!'." (Fillion)
At the time of writing (24 hours before publication), the duo have raised $1,321,368USD, light years in excess of their stated goal of $425,000USD, which means I would say that the original goal of producing three episodes out of the 12 written by Tudyk has been well and truly met and that with 29 days left to run in the campaign, there's every likelihood we'll see the full set of episodes go into production.
Oh, and why you ask are two well known faces such as Tudyk and Fillion going the crowdfunding route to produce Con Man when they have a slew of showbusinessy, networky connections? (For the record they're investing their own hard won dollars in the venture too.)
How about we let them answer than curly but totally fair question which they sensibly address in their hilariously brilliant video.
"We have as much as 120 minutes of content to fund. That's longer than most movies. If you partner with someone who doesn't appreciate the world, doesn't like the world that your show is set in, they cancel in … TOO SOON [Tudyk and Fillion say this together with much bitter experience and sighing] … We would like to partner with somebody that we like. Thousands of partners. Hundreds of thousands of partners. Millions of thousands of partners. [The word "YOU" flashes all over the screen]
Enough said! (Well actually I could listen to these new amazing people speak for hours, days, years but you know what I mean.) Go and fund this already all you "YOUs" and yes me too and let's get Con Man happening.
And maybe Firefly season 2 as well? Guys … hey guys … I see you flying a spaceship and …
(source: Slash Film)