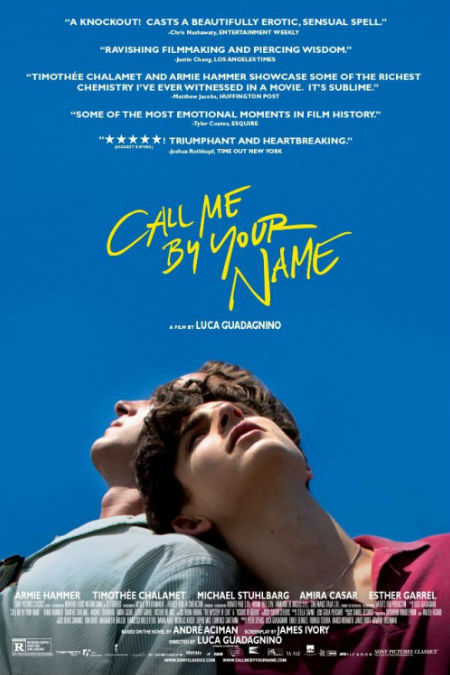 There is a heady agony and ecstasy to falling in love that most films fail to capture completely in its all conflicting glory.
But Call Me By Your Name, an exquisitely beautiful film about love, longing and unfulfilled possibilities, manages to portray faithfully how love can upend your world in the very best of ways (and the worst too), delivering up in the process one of the most affecting treatises on the ways of the heart in quite some time.
Based on André Aciman's 2007 novel of the same name, this immersively lush film tells the story of introspective precocious 17-year-old Elio (Timothée Chalamet), a gifted musician and avid reader who falls heavily or a graduate student Oliver (Armie Hammer) who comes to stay with Elio's family in northern Italy over the summer of 1983.
There to help Elio's archaelogy professor father with his work, Oliver is almost everything Elio isn't – brash, confident, exuberant and fun, a social butterfly and carpe diem-er of life who is the immediate centre of attention of the disparate group of people who make up the extended family that flock to Elio's parents played by Michael Stuhlbarg and Amira Casar.
Based for the summer at least in a 17th century villa close to orchards, swimming holes and bucolic Italian villages, Elio's world is a lushly-chilled Bohemian one, rich with intellectual inquiry, social get-togethers, multi-lingual conversations (everyone switches effortlessly between English, Italian and French) and a languid sense of life at its finest and most richly developed.
Emotionally supported by his involved, liberally-leaning parents who discuss the finer points of politics and history as a matter of course with a diverse array of friends and dinner guests, Elio has pretty much got a perfect lifestyle.
That is, of course, until Oliver comes onto the scene and Elio has to reevaluate what he wants from himself, from life and who he really is at heart.
The beauty of the film is that both writer James Ivory and director Luca Guadagnino allow these events to unspool in a gloriously languid and palpably real fashion.
There is no pressure for Elio to have some sort of sexual epiphany, there are no knockdown, drag-out arguments, no massive confrontations that change the emotional and familial landscapes in ways that simply don't ring true.
Call Me By Your Name is rooted in the simple humanity of falling in love; it doesn't matter in one sense that the two people in this particular couple are gay although obviously of you are gay, as this writer is, it has a profound effect on you to see your love portrayed in such a real, richly-authentic way.
What matters is that the film takes the time to let Elio come to terms with the fact that his initial antipathy to Oliver is actually the result of unspoken attraction, that his relationship with local girl Marzia (Esther Garrel) is an unconscious smokescreen for his true desires, and that what he really wants is to be with Oliver, even if it is only for a short amount of time.
So it is that we see Elio and Oliver dance back and forth between attraction and longing, concealment and distancing, at times close to giving into their mutual attraction and at others allowing antipathy to carve an unwanted barrier between them, a mish-mash of conflicting emotions that mirrors exactly what it is like to fall in love in real life.
Especially when the love in question, this being the '80s and the beginning of the AIDS crisis which will only serve to further enforce long-held prejudices, is that which dare not speak its name.
Ivory takes great care to reflect the messiness and contrariness of life, with no iconic moments, no great emotional breakthroughs; Call Me By Your Name, the title of which refers to a lovely habit the two develop of calling each other by their own name, further establishing their growing, all-consuming intimacy, is lived in the false starts, the oblique conversations, the uneven, crumbly in-betweens where you want to say what's really on your mind but don't dare risk doing so for a thousand unthinkable consequences.
This grounding of the narrative in the realities of actual life is reflected in the visuals and feel of the film with everything from the opening titles to the music, much of which is classically-influenced (the songs by Sufjan Stevens are a joy to listen to also and add immeasurably to the story's progress) and liberally played around with by musical prodigy Elio, to the contradictory shifts of light and mood reflecting through to even the constant shifts between languages used and highly-variable days, reinforcing the sense that life follows no easy narrative so why should a film that depicts love at its most joyous and painful?
This authenticity makes the ecstasy and agony of Elio and Oliver's great, passionate love affair all the more affecting and poignant.
You ache at Elio swings between longing and rejection, concealment and bold statement of intent, you wish these two beautiful souls could have the all-consuming true love that possesses both of them so absolutely that their parting is as a crushing blow that is evidenced in every last part of Elio's face.
In fact, it's the final act, whose ending is not without surprise since Oliver's time with the family always comes with a defined end-date, that gives the film the strongest evocation of its themes.
Love comes at great cost and its loss brings great pain and sadness, but as Elio's father assures him – the film blessedly lets Elio exists in a perfect world where his mother and father know and understand what is happening between their son and Oliver, bolstering the sense that they see the graduate student as a second son – this is to be cherished too since with it comes all the memories of love, fulfilment and joyous companionship that made the entire experience worthwhile.
To dispense with the negatives is to also cast aside the positives, and given that little in life comes with neat beginnings or endings, cleanly delineated being the stuff of kitchen designs not living, you must hang onto it all, both good or bad, or risk losing everything.
Bathed in extraordinary light and languidness, informed by deep love and understanding for the very act of being in love and alive, Call Me By Your Name is a near perfect film, one that celebrates in its slowly unfurling pace, the great soaring glories and crushing valleys of the very act of being human, assuring us as it does so that both are necessary if we are to truly live.