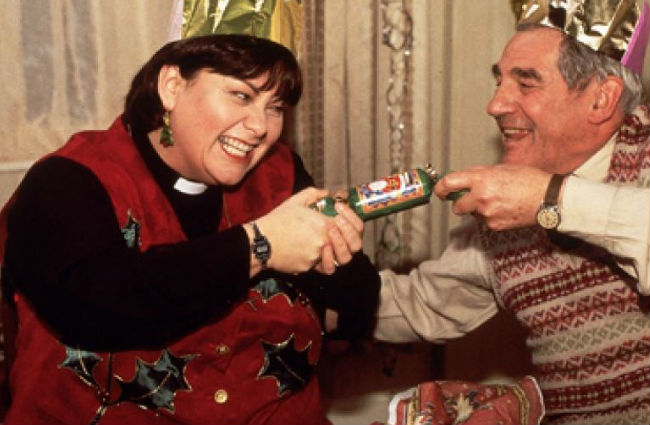 When you're in the service of others, as is Vicar Geraldine Granger (Dawn French), the "babe with a bob cut and a magnificent bosom", saying "No" even extremely nicely, can be a difficult undertaking.
After all, your parishioners seeing you as their vicar, regardless of how many of them there may be and it does occur to them that you their vicar would be anywhere else but with them on Christmas Day, that one special day of the year (birthdays aside, of course) when people feel a need to gather their nearest and dearest to them.
So on the occasion of Geraldine's second Christmas in the delightfully eccentric village of Dibley, where she is struggling with an appropriately inspiring yet entertaining sermon (eventually settling on the Spice Girls biography as her text since they and Jesus naturally have so much in common; for instance we should tell God what we want, what really, really want), Geraldine finds herself pulled in four different, festive food-heavy directions with nothing to do but gird her loins and hope she doesn't explode Monty Python's Meaning of Life style.
That she doesn't explode in "The Christmas Lunch Incident" (1996) is quite a miracle given that everyone decides to feed her everything one would eat at a traditional British Christmas from gigantic turkeys to mounds of brussels sprouts and puddings so large Geraldine, quite understandably, thinks they are to be shared among everyone at the table.
In a sense Geraldine, who is both supremely lovely (most of the time; there are times that all the eccentricities of her parishioners tax even her goodwill) and the possessor of an impressively large number of advent calendars – apparently 30 is just the right number Alice assures a satisfied Geraldine – has only herself to blame for this awkward and yet hilarious state of affairs since she has shown herself more than once to be the possessor of a prodigiously large appetite.
Still, there are limits.
Alice: Vicar?
Geraldine: Mm-hm?
Alice: What you looking forward to more than anything else at Christmas this year?
Geraldine: Well, my highlights are going to be Jurassic Park and the Queen's speech, written this year by Ruby Wax, I believe. And what about you?
Alice: I'm totally excited about your first Christmas sermon; it, it's just going to be an experience I'll never forget.
Geraldine: Alice, my first Christmas sermon was last Christmas.
Alice: Oh, yeah, I forgot.
And those limits are reached in spectacular fashion as Geraldine first enjoys a fitting "repaste" at Jim (Trevor Peacock) and Frank's (John Bluthal) joint Christmas lunch – though they are hilariously at pains to point out that they are not "together together" – where 16 kinds of vegetables are served, 5 pound notes are inserted randomly in the pudding and charades are threatened but not delivered on after Geraldine makes it clear that's one thing she cannot abide, on pain of death (not necessarily hers).
Having barely survived that enormous feast, Geraldine gathers herself for lunch at the stately manor home of David Horton (Gary Waldhorn) and much put-upon son Hugo (James Fleet), promisingly herself that she'll stick to a small meal.
Alas any idea of that goes flying out the window pretty much as soon as David, deciding it's high time he corrected some of the deficiencies that caused his wife to leave years before and learn to cook at the foot of "Saint" Delia Smith, serves up the first of his gourmet courses, a whole fish.
Per person.
Similarly overly-generous portions follow, culminating in Geraldine having to consume her own body weight in brussels sprouts so Hugo can win the annual Christmas contest – to be fair so he can win something anything for the first time ever against his brutally competitive father – where the lunch guest and David must compete to see who can eat the most of the star of British festive vegetables.
Geraldine manages to win but barely, and after yet another giant, could-feed-the-village pud', heads home on hands and knees to recover just in time for lunch number three at her verger Alice Tinker (Emma Chambers).
Alice, whose response to Geraldine's polite attempts to avoid lunch at her place, evokes an implied threat that death may follow a turning down of the lunch incident – Alice's from sheer sadness, not necessarily Geraldine's – has gathered her entire batty family together for Christmas lunch.
Mum (played by Carol Mcready) and sister Mary (Mel Giedroyc) are possessed of equally towering intellects as the delightfully daffy Alice – Mary for instance thinks it's Easter and wears a bunny cardigan in honour of the season – and treat Geraldine to a most unusual of lunches that includes, yes, lots more food.
Geraldine: And where was Jesus born?
Child: In Dunstable.
Geraldine: Who told you that?
Alice: My mum told me that Jesus was born in Dunstable.
Geraldine: In. A. Stable!
Thinking that is it – it had better be, she arrives home singing deliriously on the tray of a farmer's tractor – she's alarmed (not that she shows it) when Owen Newitt (Roger Lloyd Pack) who enjoys an alarmingly close relationship with his animals, asks her to a lunch of, well, um, offal essentially.
The only way to recover is to lock herself in her home in her pajamas, and hope the world stays away.
Of course this is Dibley and so it doesn't, with her first visitor being Songs of Praise producer Tristram Campbell (Peter Capaldi) who asks Geraldine to marry him.
Oh Jesus be praised it's finally happened and on Christmas Day!
Wait no, turns out he wants Geraldine to marry him and his Irish fiancee Aoife (Orla Brady) – "Missing 'U' always" is just one of their romantically over the top lines of dialogue – and while she says "Yes", it leaves her feeling more than a little sad and lonely.
Never fear, her parishioners turn up for a game of Charades and Geraldine is so happy to see them she actually agrees to the one game she hates above all others.
The only catch? Hugo brings turkey sandwiches, a festive food treat too far, leaving Geraldine to spend the night, and possibly the rest of the year, recovering from a very funny "The Christmas Lunch Incident".