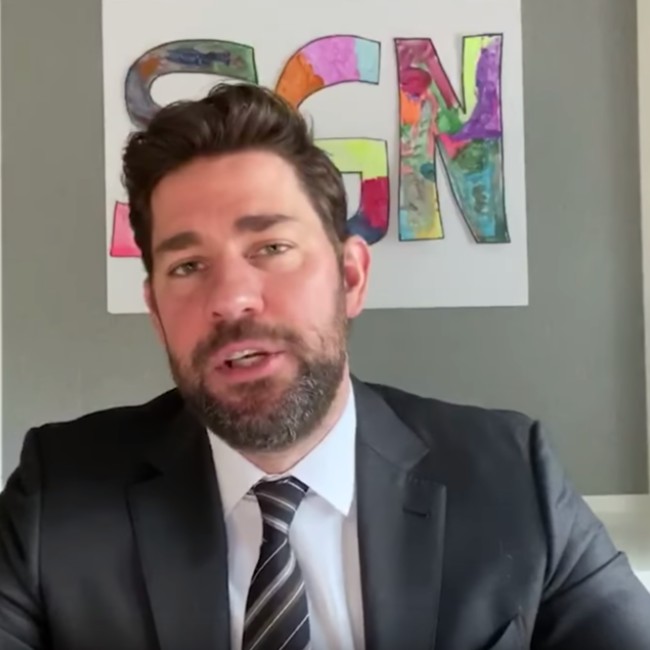 SNAPSHOT
The Quiet Place writer and director recently asked his Twitter followers for uplifting stories that might be getting lost in the deluge of bad news. Their responses inspired him to make his own new show, filmed safely from his home. And the stories he shares genuinely made us feel better. They included massive showings of appreciation from around the globe from grateful citizens towards the medical professionals risking their lives on the front lines of the coronavirus battle. He also shared some heartwarming examples of generosity and kindness from neighbors and communities. And he even included some wonderful romantic gestures from couples old and new.

In the world of entertainment, he turned to Some Good News's first correspondent, Steve Carell. The two talked about The Office, which recently celebrated its 15th anniversary. Krasinski shared that he was so sure nothing would come of the show, he went back to waiting tables after filming the pilot. He and Carrell talked about their favorite moments from the show, including episodes and scenes when they couldn't keep it together. They also discussed the difficulty they had filming their emotional last scene together. (synopsis (c) Nerdist)
Let's be honest – life isn't a bundle of cuddly, cute kittens right now; you'd be hard-pressed to find anyone to dispute that as COVID-19 cuts a deathly swathe across planet Earth.
And yet amidst all the sickness and death, social isolation and societal dislocation, John Krasinki (The Office, The Quiet Place, Jack Ryan), has found, thanks to the very good, kindness-seeking people of Twitter, some wonderful good news to warm our hearts and remind the good things never go away, not even in a pandemic.
Filmed in his home office, with a sign made by his daughters as a logo, and suited attire that mischievously ends with shorts and not work pants, Some Good News is an unalloyed joy bringing together inspiring people who are defying the odds and making life the world a great place to be even when it blighted in just about meaningful way.
The show, the first episode of which went to air online this week, is an antidote to sadness and despair, a joyful, heartwarming interlude that reminds us all we truly are in this together and that a little kindness and selflessness goes a very long way indeed.