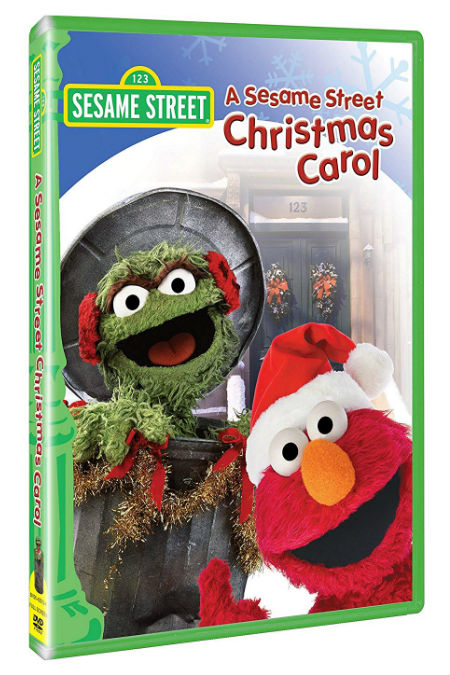 As cultural shadows go, they don't come much bigger than that cast by Charles Dickens and his classic festive novel A Christmas Carol, which has been interpreted, in one form or another, by just about TV show and movie that has existed.
And why not? The themes of loss, selfishness, humanity and redemption are universal and timeless so much so that in 2006 Sesame Street, not exactly slouch in the relevant pop culture relevancy category, decided to pay their homage to Dicken's iconic tale.
Well, pay homage again, really.
For A Sesame Street Christmas Carol, which features who else but Oscar the Grouch in the role of Scrooge, and in which we learn some sage lessons about inclusion, selflessness, kindness and being there for each other, was not Sesame Workshop's first trip to Dickens' timelessly fertile well:
"A Christmas carol was previously adapted by the Muppets in the 1992 film The Muppet Christmas Carol, and has been spoofed in Muppet Magazine, a Sesame Street calendar, and the 1978 TV special, A Special Sesame Street Christmas, as well as other books and albums." (Muppet Wiki)
Broadcast originally from November 17-23 on Sprout on Demand, the special featured, naturally the three ghosts, referred to as Ghost-o-grams, all of which are computer generated in contrast to their more "flesh and blood" Muppet counterparts, and some sassy narration by none other than Tim Curry.
It is only Oscar who appears in the main linking narrative of the show – the harried and easily-sppoked deliverer of the Ghost-o-grams, Joe the Scaredy-Pants guy (voiced by Joey Mazzarano), is a real Muppet too but he's a bit actor in what is essentially Oscar's show – which features excerpts from a lot of previous Sesame Street specials.
While it might come across as a little bit too pastiche at times, it's impossible to begrudge a special that features that still deeply touching segment, "The Gift of the Magi" from Christmas Eve on Sesame Street (1978), in which Bert and Ernie entirely selflessly give up their precious paper clip collection and Rubber Ducky respectively in order to buy gifts for each other.
Though the special features a lot of other selfless moments – Elmo going to see Santa Claus, the actual Santa Claus, all the way up at the North Pole, to ask for a gift for his friend (Elmo's World: Happy Holidays) is a sweet joy too – but there is something about Bert and Ernie's willingness to give up something so profoundly important to both of them to make the other happy that really speaks to you.
It is very much in the spirit of Sesame Street which has always gone out of its way to preach the gospel of kindness and care and giving up what you want if it makes someone else happy.
Granted, it's not exactly Oscar's usual modus operandi, and while he doesn't exactly undergo an unrecognisable transformation, he does, notes the wiki, go through his very own grouch makeover:
"In the end, Oscar finds finds several things to enjoy about Christmas Day, including sticky balls of used wrapping paper, waiting for the 'rotten snow' to turn the 'mushy and gray', and 'best of all, tomorrow is the day after Christmas, and this will all be over.' (Muppet Wiki)
Filled with very funny ghosts – Carole, the Ghost of Christmas Present is the highlight, decked out in a giant lit-up Christmas tree and capable of giving Oscar and his home the most festive of temporary dress-ups; oscar as Santa? You got it! – lovely songs, educational segments (we find out about Kwanzaa and Hannukah) and lovely sentiments such as keeping Christmas in your heart all year round, A Sesame Street Christmas Carol is a warm and cosy joy, the perfect way to spend some time with your favourite Muppets over the festive season.