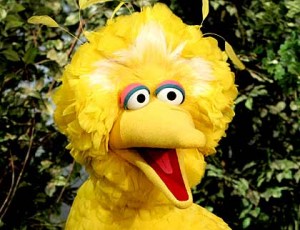 Having successfully vanquished his greatest foe to date, Mitt Romney (his reference  to Big Bird when discussing reducing funding to PBS in one of the Presidential debates spawned an internet meme that took on a life of its own), Big Bird is now turning his attention to matters a little closer to home and starring in a Sesame Street special to screen Friday US time that it is hoped will give some comfort to children (and yes even grownups) who suffered at the hands of superstorm Sandy.
Using footage from a five part series that originally aired in 2001, and was re-aired following Hurricane Katrina in 2005, the special will show how the residents of arguably the world's favourite street cope with the aftereffects of a hurricane ripping through their neighbourhood.
It will focus primarily though on Big Bird who loses home when his nest is destroyed and how he feels with its rebuilding and re-certification as safe to roost in. (Yes even sweet fluffy yellow six year old birds must comply with building codes.)
Put together under the most trying of circumstances in the aftermath of the storm that cut a swathe through the northeastern United States just over a week ago – according to insidetv.ew.com, "its lead editor was trapped in Hoboken, one of New Jersey's hardest-hit cities; its assistant editor was hit by a car while riding a bike from her home in Brooklyn to Sesame Street's offices in Manhattan" – the special which was originally intended to help prepare people for a hurricane, will now help them recover from it.
It fits in perfectly with the mandate Sesame Street has had since its founding which is to help people learn, no matter what the circumstances, and it will no doubt bring a great deal of comfort to the poor victims of this natural disaster.
Now if you'll excuse me for a second, I need to give Big Bird a BIG hug.