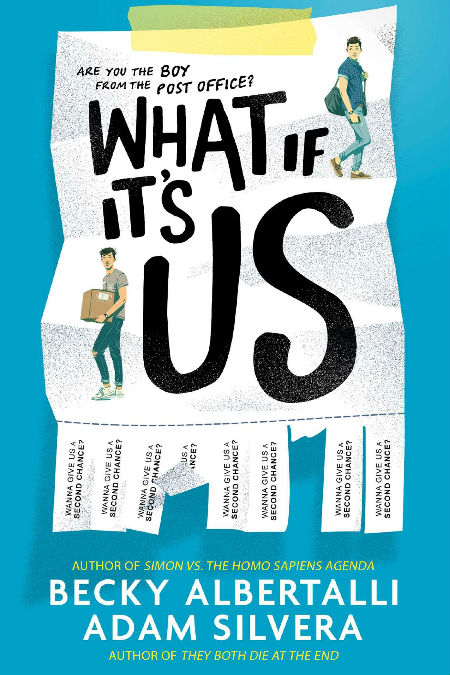 Falling in love is a glorious thing.
All that newness! All that possibility! All the promise of a bright and shiny future hand-in-hand with someone more special than anyone else alive.
It's heavy exclamation use territory and 16-year-old Arthur, one of the lovestruck protagonists in What If It's Us? by Becky Albertali and Adam Silvestra is more than willing to punctuate with the passion and enthusiasm of someone falling in love … and then some.
Endearing to a fault, Arthur is garrulously unsubtle, an almost 17-year-old who doesn't have much of an edit button, who doesn't so much wear his heart on his sleeve so much as drape it across his entire body and several adjoining buildings (preferably lit by neon) and who attacks everything with the heartfelt get-to-the-goal-and-get-there-now concentration of a condemned man determined to find true love one last heady, memorable time.
He is a delight and you can't help but root for him on just about every level when he sees a cute guy carrying a box into a post office in Manhattan, where he's working as an intern for the summer at his mum's law firm – crucially for the plot, he's actually from Atlanta, where the firm has another office, and so his time in the Big Apple is agonisingly limited – and eschewing the coffee order, follows him in to flirt with all the awkward subtlety of a bull perusing the contents of a china soup.
It's adorably cute but just when you're thinking newly come out Arthur has found his first, and of course at his age in his mind, only true love forevermore, things happen, the two would-be lovebirds get separated without exchanging numbers.
"I halt and almost double back, but keep it moving. Dessert will still be there. I have this I-must-do-this-right-now-or-explode feeling in my chest. I close my bedroom door and sit on my bed with the busted laptop that this whole Craigslist conversation. There's this exciting hope of possibility filling me up, like when Hudson and I started texting for the first time, like when Arthur said hi and we flirted and talked about the universe." P. 71)
Uh-oh.
In a city as big as New York City, not getting the details of someone you like is tantamount to kissing them goodbye forever, a major problem since Arthur is very keen on kissing Ben but not so much goodbye as hello over and over and over again.
He's fallen hard – to be fair, Arthur falls hard for everything including the musical Hamilton and fiction written by prospective boyfriends (but that comes later) – and so begins a frantic attempt, with the help of law firm friends Juliet and Namrata and his super-supportive mum and dad (who may or may be fighting so hard divorce is on the horizon) to find Ben in a city that is purpose-built to thwart such epic quests of the heart.
Thing is, Ben, smarting from a break-up with his first boyfriend and fellow summer school inmate Hudson – which has causes rippling problems with other great friend Harriet but not thankfully Ben's larger-than-life BFF Dylan (who is straight and into coffee shop worker Samantha who might be The One) – is equally smitten and with the help of his mum and dad (the parents are the best in this novel, THE BEST), and Dylan and Samantha, sets out to track down the elusive Arthur.
It's easier said than done but magic happens and Arthur and Ben do find each other – how is a spoiler, an utterly delightful spoiler and shall not be divulged here – and thus begins a romance for the ages.
Well, for the summer at least, with Ben and Arthur determined to live up to the epic meet-cute way they came together and have the biggest and best and most impossibly romantic relationship ever.
So, no pressure huh?
Turns out, it's a lot of pressure and while their first date and the subsequent endless succession of do-overs dates – turns out that is a thing, at least in their impossible ardent world – aren't awful, there's a serious amount of wrongfooting going on which comes close on more than one occasion to sinking the good ship Forever Romance before its even left its berth in the harbour.
The refreshing thing about What If It's Us?, which takes its title from a song in the musical Dear Evan Hansen which Arthur also adores and loves and worships (he's gorgeously intense; we mentioned that right?) is that while it's a solidly magical rom-com-esque tale where teenagers speak with the lush whippet-smart, hilariously sagaciousness of people not of this world but a more cinematic one where every word is golden, it's also very, very real.
It acknowledges that while meet-cutes of the sort Arthur and Ben experience are beyond wonderful, and that yes, they're meant for each other in a way that only people who actually meet The One truly experience (trust me, that happens and I am living proof, thank you), that doesn't mean life will simply sit back and let events take their course unimpeded.
That's not, alas, how messy, contrary, up-and-down, one-step-forward-three-steps-back life works, something that new to dating and love and romance Arthur is shocked to confront.
Ben, whose got a few more runs on the board but barely, is a little more worldly-wise; yet even he is put out that life doesn't wrap he and Arthur up in endless kissing, picture-perfect Instagramable moments and montages so breathtakingly romantic that you can see the red hearts floating in the air above them.
Watching them grapple with impossible expectations meeting life's harsh realities gives this deliciously-immersive novel than will make you sigh in romantic awwws more times than you can count, a nice backbone of reality that powers the narrative momentum along at just the right believable rate.
"When the song ends, I'm ready to apologize. But Arthur takes my phone and looks up a cover of "Only Us" from Dear Evan Hansen, and he comes closer to me as he sings the words 'So what if it's us, what if it's us, and only us.' This song is so beautiful. What it feels like to be wanted by someone who sees you for who you are. How the world—the business of Times Square— can feel like it's falling away when you're with the right person." (PP. 280-281)
But who wants totally believable right?
Not the incurably romantic and so What If It's Us? serves just the right balance of life getting in the way and romance coming up triumphant to keep everyone happy and to make the heartfelt places of the heart Arthur and Ben get to to feel authentic and yet transcendentally romantic all at the same time.
The book's other great strength is that it, quite rightly, treats this budding relationship between two young men as an entirely natural course of events, a figurative slap in the face to anyone who thinks that #loveislove is some sort of demented hashtag and nothing more.
As a gay man, I know that homophobes and conservatives have it completely wrong when they treat gay romance as twisted and different from heteronormative love but rather have it out with them in a pointless screaming match that serves no one's best interests, challenge them to read What if It's Us? which doesn't jump on some sort of polemic bandwagon but simply let's Arthur and Ben's love, their gloriously flawed and stop-start love, speak for itself.
And speak for itself it does in ways that warm the heart, seize the mind and caress the soul, all with some giddy rom-com lushness thrown in for good measure, the kind of lushness that stares down life's inclination to be a buzzkill-slaying asshat and says love is wonderful, epic love is even more wonderful and is entirely possible, even when a host of obstacles are arrayed against it.
After all, what is life if we don't have dreams and enticing possibilities?
What If It's Us embraces that idea with gusto, handing us delightfully heartfelt protagonists, just the right amount of reality to leaven out the fantasy (but not too much because fantasy is something we all need more of) and a lingering sense that happy endings are possible and that while they may need a bit more time than you expect to manifest, they are a thing, especially for two cute, sweet guys who dare to believe they can happen, no matter what comes against them.