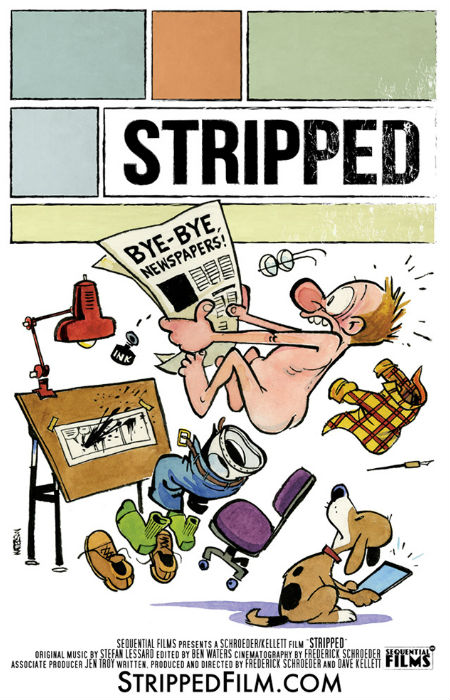 Calvin and Hobbes, Peanuts and Mutts aside, is pretty much my favourite comic strip of all time.
Drawn by the enigmatic almost J D Salinger-esque Bill Watterson, who has been the subject of a recent movie and book, both of which were aimed at finding out more about the man behind the beautifully drawn and punch-lined myth, Calvin and Hobbes was literate, insightful, artistically satisfying and downright laugh-out-loud funny.
During its all too brief 10 year run (1985-1995), it gathered a massive and incredibly devoted following who, despite the fame and merchandising-averse Watterson calling it quits at the height of its success and retiring to an anonymous, quiet life in the country, continue to faithfully follow every move the man makes, or mostly, doesn't make.
I should know – I am one of them.
Well fellow Calvin and Hobbes enthusiasts rejoice!
For while we are still without any fresh Calvin and Hobbes strips (save for an impressive effort by Pants Are Overrated to imagine Calvin and his friend Hobbes all grown up), we do have a new cartoon from Watterson, in the form of a poster for a feature-length documentary Stripped from Fred Schroeder and Dave Kellett of Sequential Films, available for pre-order on iTunes USA, on the dire fate of comic strips as they adapt to a world without their traditional home of newspapers and the resulting emergence of web comics.
It is, by all accounts, a fascinating look at an art form in transition, one which is facing many of the same issues affecting other traditional media channels, and features interviews with a slew of well known current cartoonists such as Jim Davis of Garfield fame.
Most excitingly for Calvin and Hobbes enthusiasts, it includes an audio interview with Watterson, which is nothing short of miraculous given how publicity shy he customarily is, and reason enough to purchase Stripped, which is out on April 1 this year.