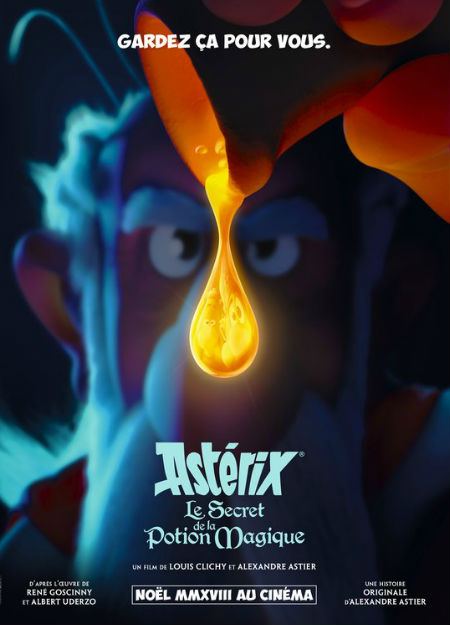 SNAPSHOT
The druid Getafix nimbly clambers up and down oak trees to gather mistletoe in the forests surrounding the Village of the Indomitable Gauls. But one day the expert climber has a bad fall. And my, does that get him worrying! What on earth would happen if he was incapacitated and couldn't brew up his magic concoctions? With Asterix and Obelix by his side, he sets off to scour Gaul for a talented druid to pass on the secret of the Magic Potion…" (synopsis via Newsarama)
Granted the trailer may be in French but there's no mistaking the irreverently humourous vibe that has long sustained Asterix, created and written by René Goscinny and illustrated by Albert Uderzo (now Jean-Yves Ferri (script) and Didier Conrad (artwork)), a favourite of mine since childhood.
I love the wit and wisdom of the writing (including the love of puns and dialogue silliness), the outsized characters, the fun historical details and the sheer vivacity of the artwork which leaps out at you in vibrant colour and keeps you glued to it without a thousand small and wonderful details.
Directed by Louis Clichy and Alexandre Astier from an original story by Astier, whose previous film Asterix: The Mansions of the Gods, came out in 2014, Asterix: The Secret of the Magic Potion (Astérix: Le secret de la potion magique) looks to be riotously, eye-catchingly, intensely colourful and alive, the comic sprung to life if ever I saw it.
And though my French is not as good as it used to be, and I missed most of what was going down, it also looks ridiculously funny.
Surely this is as good an excuse for a trip to France as I need? Thought so …
Asterix: The Secret of the Magic Potion (Astérix: Le secret de la potion magique) opens in France on 5 December and in Australia on 18 May 2019.