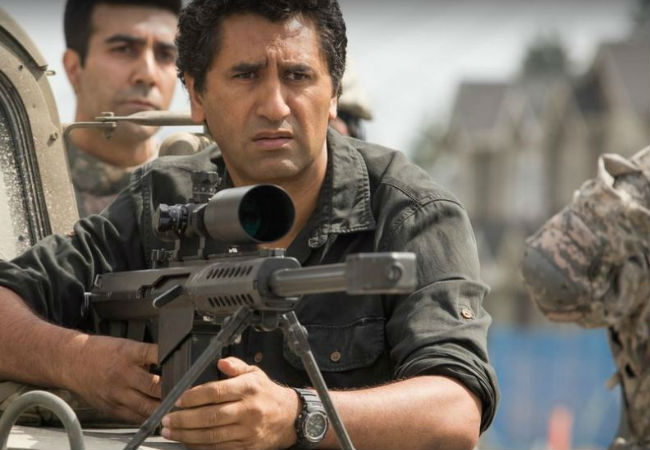 * SPOILERS … AND AN ARENA OF ANXIOUS-TO-GET-OUT WALKERS AWAIT *
Ah humanity, when the chips are down, you either cover yourself in glory, self-sacrificially stepping forward to make lives better for others in times horrifically extraordinary, or you look out for number 1, making sure you're OK and leaving everyone else to handle things the best way they can.
No prizes for guessing what route the majority of the characters, major and minor took in the penultimate first season episode of Fear the Walking Dead.
Safe to say, as things took a decided turn for the worse – yes, surprisingly it is possible for things to deteriorate further in a world where the apocalypse has arrived, all undead and ready to rip civilisation to blood-soaked shreds – "Cobalt" was not exactly humanity's finest hour.
"Every man, woman and child for themselves!" was effectively the new motto and even the military, swaggering their way, on the whole, into this brave new world, one not even Aldous Huxley likely contemplated, took it to heart, abandoning their role as dictatorial Florence Nightingales, in favour of getting the hell out of Dodge.
And in the process, leaving everyone else to cope as best they could.
Assuming they were allowed to stay alive and breathing anyway, what with the military being more than a little fond of a combination Scorched Earth/Blitzkrieg/lock the alive up with the dead policy.
Showrunner Dave Erickson and his team powerfully brought to the fore humanity's propensity to unleash its less than stellar angels when their very survival is threatened.
Granted not everyone caved into based instincts but enough did that the walking dead were not the only people to be feared as the temporary sanctuary of the wire fenced-compound begin to fall before the relentless onslaught of the unstoppable apocalypse, rampant self-interest and ghosts from the past rearing their ugly, tortured heads.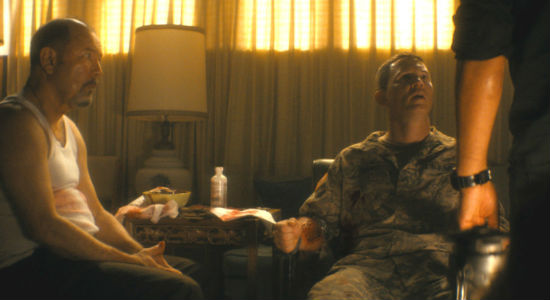 The man with the most ghosts peering coldly and passionlessly over his shoulder was Daniel Salazar (Rubén Blades) who it turned out was not the victim of the story back in old El Salvador but among the ranks of the oppressors, the man responsible for torturing and disappearing all those people he once talked about as if he was among their number.
While his wife Griselda (Patricia Reyes Spíndola) was party to his whatever-it-takes-to-survive ethos, daughter Ofelia (Mercedes Mason) was not, only discovering her father's true identity as a cold-blooded torturer when he convinced her to lure one of the few good soldiers guarding (and soon not to be) them, Andrew Adams (Shawn Hatosy) to what will likely be his undead doom.
Before he is despatched to the land of the undead, however, the young, well-intentioned who has at all turns been distinctly uncomfortable with the cavalier "I'm a military god" attitude of the commanding officer, Moyers (Jamie McShane) is treated to some drip feed torture at the hands of Daniel who seems intent on playing the role of dungeon executioner, even as Adams offers up all the information he can bring to mind.
It's deeply calculating, unutterably, chillingly dark and something that people like Madison (Kim Dickens), anxious to get junkie son Nick (Frank Dillane) back from the "hospital" aka waiting room for the extermination camp, where he's saved from an uncertain fate by new swaggeringly confident friend Victor Strand (Colman Domingo), while there's still time.
Only Travis (Cliff Curtis) holds intense reservations about this whatever-it-takes approach, refusing to shoot a walker waitress in a cafe when invited to do so by Moyers, who treats shooting the undead he's an aristocrat on a country estate wantonly shooting pheasants as he pleases, and after making it back home when the military patrol he's on goes completely to pot, blanching when he sees what Daniel, and by tacit refusal to object, Madison is up to.
Still, even noble Travis, man of the people, and likely conscience of humanity going forward – is that really wise Travis? Those people always die – doesn't stand in the way of Daniel's barbaric techniques, which has elicited the news that the military is preparing to fly the coop and save themselves, screw the rest of humanity.
Yep, everyone is abandoning the sinking ship S. S. Humanity and it's readily becoming apparent that any semblance of what passed for civility, morals or ethics is flying out the window faster than a walker's hastily chopped-off body part.
It's not looking pretty and Fear the Walking Dead does an exemplary of capturing this decline, this rapid, messy decline in all its putrid glory.
And that where Fear the Walking Dead excels.
It's unafraid to admit that much as we'd like to think people will nobly step up in humanity's darkest hour Hollywodd hero-like, and it's true some will, the reality is more than not that fear and self interest will win out over altruism and self-sacrifice.
It may seem indulgently pessimistic to some but the reality is civilisation hangs by a gossamer thread of collective goodwill, and as Fear the Walking Dead starkly portrays, once that's gone, and it won't take long alas, then it really is every person for themselves.
"Cobalt" vividly brought to life, or undeath, your call, what the end of the illusion of civilisation is like, when the last tattered vestiges fall away and we see each other as we really are.
Not pretty is it?
And it's likely to look even less pretty by the time next week's episode "The Good Man" wraps up the first season of the show …