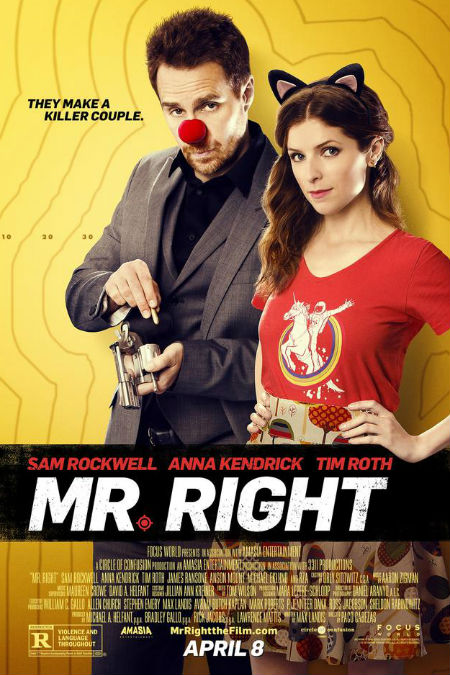 SNAPSHOT
Mr. Right, written by Landis and directed by Paco Cabezas, stars the ever-talented Sam Rockwell and the ever-likeable Anna Kendrick. Kendrick plays the quirky Martha who gets her heart broken after catching her boyfriend cheating on her. She seems to give up on finding a good man until she quite literally bumps into Rockwell's character Francis, suave, sweet and quirky himself, at a convenience store in an explosion of condom boxes.

She's immediately wooed and the two begin dating, until she eventually discovers that he's a deadly hit man (whoops!) that happens to kill those that hire him (oh, he has a heart!) The question now is whether she can stay with Francis despite his job, not to mention all the while a group of bad guys and an FBI agent (Tim Roth) are out to take him down. (synopsis via Film School Rejects)
Ah the search for love true love.
It's usually nowhere near as easy or romantic as the rom-coms would have us to believe; rarely do any of us have a meet cute, a magic moment when the love of our lives comes walking into our lives …
… but then that's why we go to the movies right? To escape to a world where that happens all the time and everything, a frantic dash to the airport aside, usually lives happily ever after. (Actually many of us also get the happy ever after thing but it's so much more OTT and fun that real life.)
In most movies, love is a sweetly uncomplicated thing but there's a particular sub-genre of romantic movies such as Mr and Mrs Smith and American Ultra, where true is love but it's fantastically, amazingly complicated, testing where this is a love you really want.
Sure we see it a lot but with Sam Rockwell and Anna Kendrick playing the two eager lovebirds, both of them more than equal to the task of playing equal parts romance and humour, this could well be one very enjoyable addition to the canon.
Mr. Right opened in select cinemas and via VOD on 8 April.