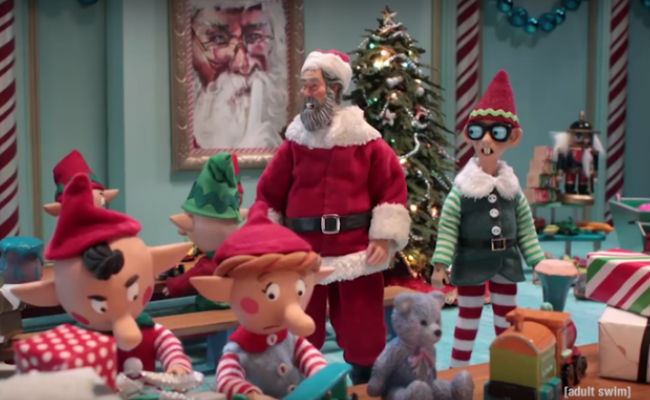 There's no arguing that Santa sits pretty atop the pop culture recognition tree?
He may only get to strut his toy-giving festive stuff once a year but man does he make the most of it, and even when your thoughts may not necessarily turn to reindeers, tinsel and presents beneath a tree, he's looming large in the collective consciousness.
So it makes sense that he should get to share in one of the prevailing trends of our time – ZOMBIES.
Yes folks, thanks to Adult Swim's Robot Chicken, Santa is now grappling with the undead; specifically elvish undead which his too-clever-for-his-own-good son has unleashed upon the world through sheer overly-ambitious accident.
In The Robot Chicken Christmas Special: X-Mas United, Santa, who has more than a touch of Rambo about him, and his virus-spreading progeny rush to escape the undead workers of Santa's workshop, leaving a trail of corpses, including that of dear old Rudolph, who doesn't so much save the day this time as it serve as the zombie elves' bloody starter.
And as Zap2it reveals, the only way out of the sort of predicament even Rudolph can't fix is to go all out and make no apologies:
"… Santa and son make it into his private boudoir. While the bespectacled boy develops a plan which entails a "paint can, a long string, some nails, a cheese pizza, and a VHS tape of Angels With Filthy Souls, Santa has a better idea and unveils a hidden arsenal that would make the Punisher proud."
Yep, Santa don't do NATO people and you'd well to remember it!
HO! HO! HO! BOOM!
The Robot Chicken Christmas Special: X-Mas United premieres midnight on Sunday 13 December on Adult Swim.