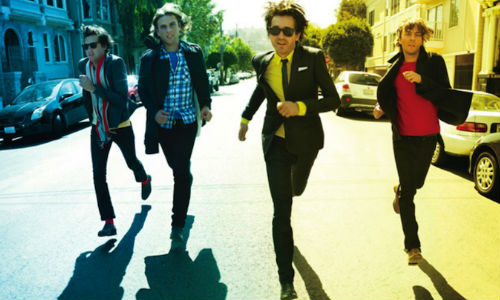 One of my favourite bands in the entire world – it could be the universe but having failed to leave orbit, I can testify to the complete veracity of that claim; although as a child, I had no such reticence, and proclaimed everything to be "the best in the universe" – French alternative rock band, Phoenix, have announced the name of their new album, due in April this year on Glassnote Records (also home to Mumford and Sons).
It will be called Bankrupt! and comes complete with a vibrant flashing announcement on their website that, in all seriousness, comes with a warning that it may induce epilepsy.
Eye-searing colours and movement aside, the announcement on their site comes complete with a 54 second snippet of music that may or may be from a song on the album.
It could simply be some creative doodling, and even if that's all it is, it is damn creative doodling and whets my appetite for the album to come.
The follow up to 2009's critically and commercially well-received Wolfgang Amadeus Mozart, it is being talked by Glassnote's label head Daniel Glass, who is quoted on Billboard as saying:
"It's very hard to beat Wolfgang Amadeus Phoenix, but this could be revolutionary."
It is hard to imagine the talented threesome of Thomas Mars, Deck d'Arcy, Christian Mazzalai and Laurent Brancowitz coming up with anything less than revolutionary and it's a fair bet I will have this album on high rotation through most of April.
iPod – you have been warned.