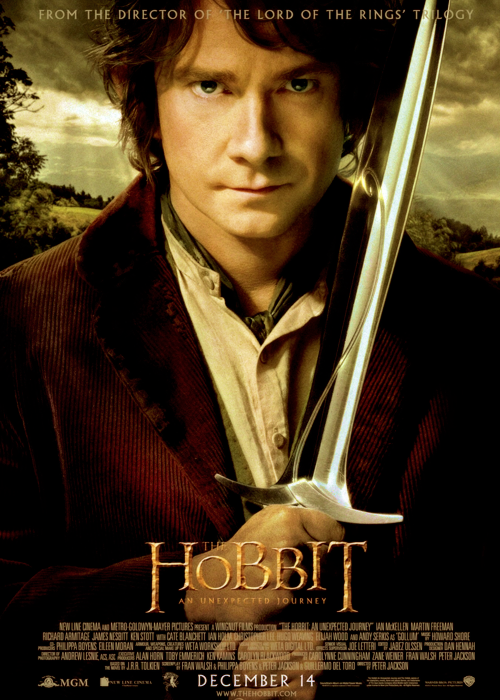 I have missed Middle Earth.
The Hobbit: An Unexpected Journey is a welcome return to the magical land that exists somewhere in an alternate version of medieval England, brought to life in spectacularly vivid fashion once again by director Peter Jackson, and his collaborators Fran Walsh and Philippa Boyens (and for a time, Guillermo del Toro).
But while Gollum, the One Ring and the orcs and elves that dominated The Lord of the Rings saga so successfully make an appearance, The Hobbit, drawn from the children's book published by Tolkien in 1938 (plus sundry supplemental sources), largely gives centre stage to a company of dwarves led by king-wthout-a-kingdom (but with all sorts of attitude), Thorin (Richard Armitage), looking to reclaim their homeland of Eridor, and a reluctant adventuring Hobbit called Bilbo Baggins (Martin Freeman).
And what an adventure it turns out to be.
Once, of course, Bilbo Baggins finally realises he must go on it or forever live with the regret.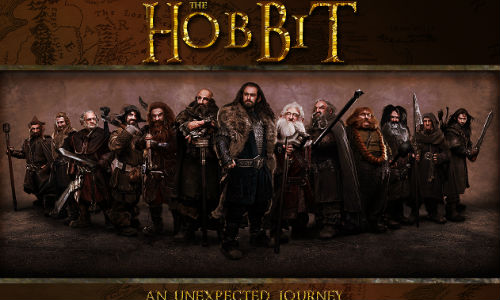 But before anyone goes anywhere, we are treated to a fascinating, and visually impressive prologue where the glories of the Dwarven kingdom of Eridor (and its human sister city, Dale) are extolled, and its downfall at the hands of the greedy dragon Smaug are explained.
It is then that we meet Bilbo Baggins, sixty years before the events of The Lord of the Rings trilogy, snugly ensconced at his underground home in Hobbiton, Bag End.
He is content with his small, respectable life, yearning for nothing more than a smoke on the seat in his front yard of an evening and a decent meal of fish and vegetables for his nightly meal.
But this neatly circumscribed existence is tipped on its head with little fanfare, and quite a deal of chaos, when Gandalf the Grey (Sir Ian McKellen) pays him a visit, and essentially decides for Bilbo that he will be the fourteenth member of the party seeking to journey to Lonely Mountain to reclaim the usurped vast wealth of Thorin and his people.
He neglects however to tell Bilbo this, who thanking Gandalf for thinking of him retires back to Bag End only to find himself invaded later that day by twelve unruly frat boy-like dwarves who empty his larder, and sing at the top of their lungs, awaiting the arrival of both Gandalf and their leader Thorin.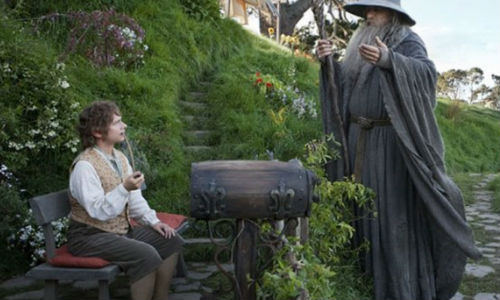 Bilbo, naturally, is less than amused by this and manages to deflect a series of impassioned requests from the dwarves and Gandalf to join them on their quest.
It is only when he awakes the next morning to an empty house, and to the sense that this could be his suffocatingly small and quiet future, that he tears off after the now departed company and an adventure that takes him and his new found "friends" across a broad, and sometimes, threatening swathe of Middle Earth.
They encounter Orcs astride fearsomely nightmarish wolf-like wargs (led by Azog, fearsome Orc chieftain of Moria – played by Manu Bennett – who has a major score to settle with Thorin), goblins in their underground Misty Mountains kingdom and their corpulent, bullying Great Goblin (Barry Humphries), witless trolls (who try to eat them and their ponies) and even journey to the enchanted elven kingdom of Rivendell to meet with Elrond (Hugo Weaving) and the elves' "queen" Galadriel (Cate Blanchett).
It is a ripping Boys' Own adventure with thrills, spills, near misses and a thousand moments when any and all members of the party could have met their doom (the scenes where they are escaping from the goblin hordes, and trying to evade Azog's relentless pursuit on a high bluff are as edge-of-your-seat as they come).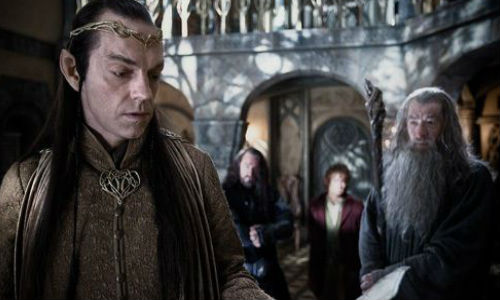 In that respect, The Hobbit: An Unexpected Journey departs quite markedly in tone from The Lord of the Rings with its dark foreboding and the fate of the entire of the world hanging in the balance.
But that's to be expected given this movie is based on what was intended by Tolkien as a childrens' book and thus didn't contain much of the gravity and seriousness of the trilogy that succeeded it.
Even so, while it is full of humour and slapstick and impossible-to-believe escapes, it still has shades of darkness woven through it as stirrings of a darker threat swirl around the edges of our heroes' journey, noticed most markedly by Gandalf's wizard contemporary, Radagast the Brown (played with playful hippie-esque delight by Dr Who alum Sylvester McCoy) and his rabbit-drawn sled.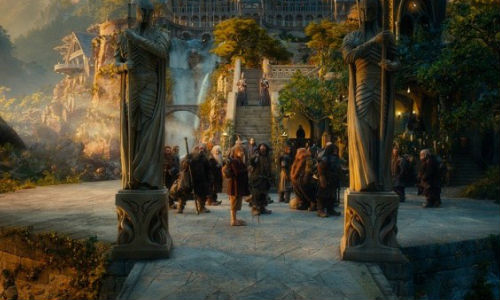 One thing The Hobbit does share with its Tolkien cinematic forebears is a deep, immersive sense of being in a fully-formed time and place far removed from your own.
From the bucolic surrounds of Hobbiton in The Shire, to the ethereal elven realm of Rivendell and beyond, Peter Jackson does a superb job of linking the apocalyptic overtones of The Lord of the Rings trilogy with the more hung-ho adventures of The Hobbit, by successfully making it clear that while the two sets of movies – The Hobbit: An  Unexpected Journey is now a trilogy with The Desolation of Smaug (2013) and There and Back Again (2014) still to come – are tonally and thematically divergent, they still share the same location and sense of mythos.
He is also successful in crafting a capable but ill-at-ease with his new calling hero in Bilbo Baggins who is well aware he is not equipped for the task he has undertaken – something Thorin reminds him of at every turn until events bring them closer together – but plunges into the fray nonetheless.
He is an everyday hero, endearingly concerned about whether he can follow through on rash decision to join the company's quest but as he says to Thorin, determined to what he can because he has a home and loves it, and wants to help the dwarves reclaims theirs.
It fails to sway Thorin at that point but it speaks to the heart of the character and why he is willing to leave the safety and comfort of The Shire for the big, uncertain world beyond it.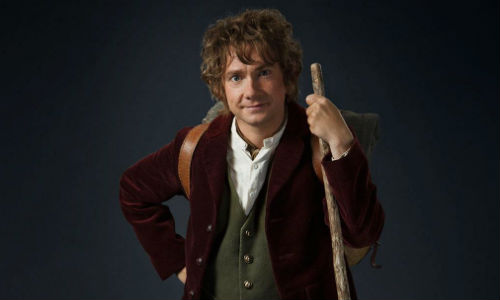 The Hobbit: An Unexpected Journey, and indeed the entire The Hobbit trilogy, will likely be seen by many as not as weighty a movie series as its predecessors but dismissing it on that basis would be doing it a disservice.
It has everything you could ask for in a rollicking, full speed ahead adventure – an engaging, everyday hero, a company of mismatched characters who nonetheless pull together in pursuit of a common goal, villains, and allies, aplenty, and a sense of riotous jeopardy mixed with real danger and the potential for quest-ending disaster.
If that isn't enough to keep you glued to your seat, and utterly immersed in the wonderfully evoked world of Middle Earth, then I don't know what is.