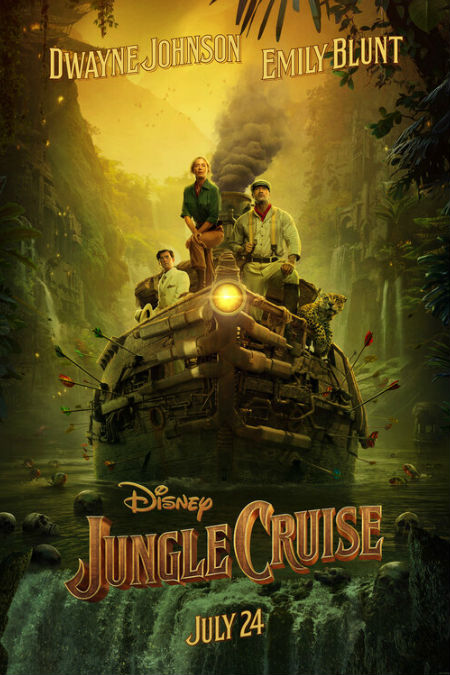 SNAPSHOT
Based on the popular Disneyland ride where riders travel the rivers of the jungle guided by a riverboat skipper and encounter wild animals as they cruise. Johnson plays a boat captain who takes sister (Blunt) and her brother (Whitehall) on a mission to find a tree believed to possess healing powers. Wild animals and a competing expedition figure into the proceedings. (synopsis via Coming Soon)
Were it not for films like Pixar's Onward, and to a lesser extent the output of Marvel and Lucasfilm (Star Wars), I would have long ago concluded that Disney had fired all its screenwriters.
Or at least hung out a shingle saying "All ye with original story ideas, do not this way come."
It's hard not to reach that kind of conclusion when you are trapped as a cinemagoer in a blizzard of live-action remakes, re-imaginings and Disney theme park-inspired rides such as Jungle Cruise, a trailer and poster for which have just been released.
The thing is, for all my cynicism about Disney's seemingly lazy grab for cinema cash, Jungle Cruise actually looks like it could be fine.
It's taken a sweet but reasonably bland ride and given it a heady dose of good old escapist adventuring, a light and frothy tale that benefits mightily from a ton of personality and fun courtesy of the combined talents of Emily Blunt and Dwayne Johnson and a script that's happy to its loopily over the top blockbuster flag fly.
Is it the kind of film Martin Scorsese would decry? Almost certainly. (For the record, I have never believed in the tired old concept of high and low art and see a place for both Scorsese's well-constructed, thoughtful dramas and more populist escapist fare; neither is better than the other, entertainment-wise at least) But is it going to be a gloriously diversionary piece of cinema? I think so and honestly that's fine by me.
Jungle Cruise opens in Australia 23 July 2020 and UK/USA on 24 July.