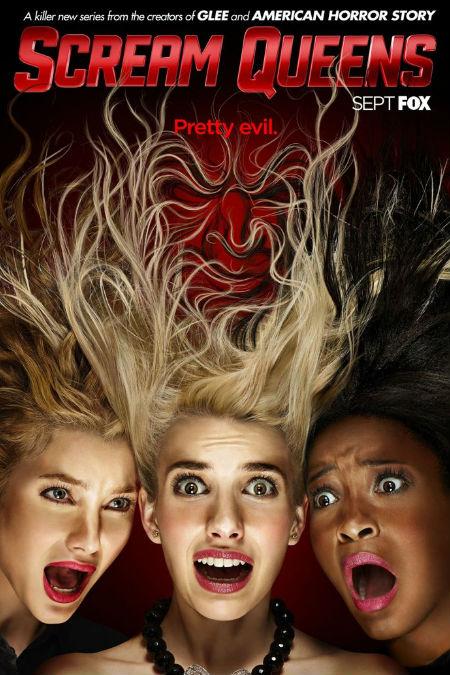 SNAPSHOT
Wallace University is rocked by a string of murders. Kappa House, the most sought-after sorority for pledges, is ruled with an iron fist (in a pink glove) by its Queen Bitch, CHANEL OBERLIN (Emma Roberts, American Horror Story: Freak Show, Scream 4). But when anti-Kappa DEAN MUNSCH (Jamie Lee Curtis, Halloween, A Fish Called Wanda, True Lies) decrees that sorority pledging must be open to all students, and not just the school's silver-spooned elite, all hell is about to break loose, as a devil-clad killer begins wreaking havoc, claiming one victim, one episode at a time.  Part black comedy, part slasher flick, SCREAM QUEENS is a modern take on the classic whodunit, in which every character has a motive for murder…or could easily be the next blood-soaked casualty. (synopsis via Seat42f)
You have to hand it to Ryan Murphy (Glee, American Horror Story) and his producing partners in crime on new comedy/horror TV anthology series Scream Queens, Brad Falchuk and Ian Brennan – they know how to craft an appealingly fresh over the top  fun pastiche of a number of well-used genres into one can't miss TV show.
Bringing together the teen slasher flick (oblivious teen victims, menacingly masked perpetrator), the good old traditional whodunnit (rising body count, everyone's a suspect) and the college, right of passage to adulthood, film (angst and drama writ large), they have given us a show that promises to be hair-raising – literally if the newly-released poster is to be believed – and mirth-inducing at all once.
Who wouldn't want to rush Kappa House sorority in that case?
Well anyone who wants to live, clearly.
But then you'd miss out, as TVLine rather pithily points out on a number of quite wonderful things:
* Nick Jonas wearing his Kingdom uniform (aka no shirt).
* Niecy Nash's unsurprisingly hysterical turn as an over-the-top police officer.
* Oliver Hudson sharing the screen with a young female character he's not trying to sleep with. (Yes, Nashville fans, it's possible!)
* Jamie Lee Curtis being just… I can't even think of an appropriate adjective. She's just perfect in this role.
Oh and Satan, or at least someone in a devilishly-good mask, taking creative landscaping to all sorts of unnervingly innovative places.
Wanna scream, laugh, glory in the satire of well, just about everything, and wonder what could be hiding down in the basement into the bargain?
Tune into Scream Queens premieres this September on Fox.