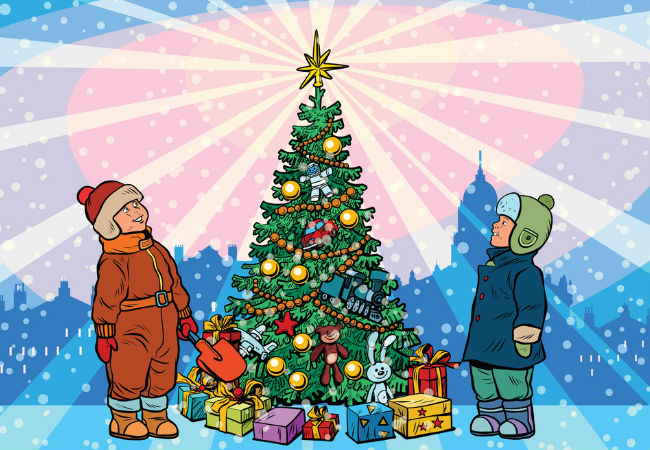 If any year needs a filled to the tip of the needles Christmas tree, it is this one. (Let's be honest, all years need festive decorating but 2020 really needs it.)
I will admit to the fact that my Christmas in July tree never really came down – it's a white arty tree (below) that usually does duty as my Easter tree (yes, they are indeed a thing) and was pressed into service for some badly needed mid-year decorative merriment – which bolstered my spirits during the unending stress of a year where the pressure of work grew by leaps and bounds every week it seemed. (I worked for a professional healthcare organisation as a writer so we were very busy communicating to members.)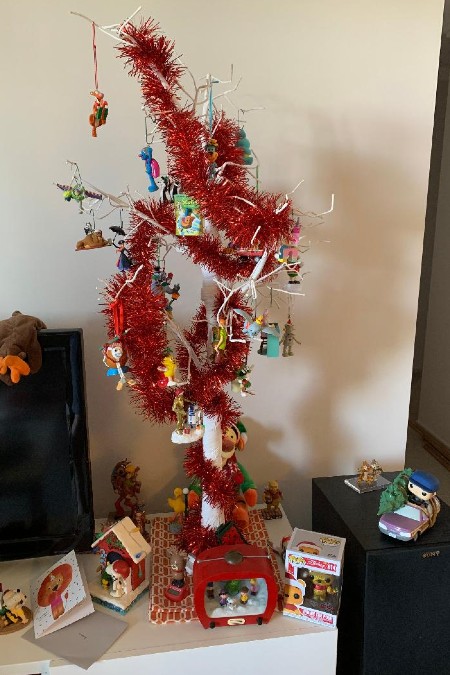 Partly because of the year it was, and partly because I can't stop myself eBaying like an online shopping addict, I ended up with about 30 new ornaments this year which is 28 more than my partner technically agreed to; but there were too many great ornaments that came up for grabs and saying to them was really not an option.
Plus, they just make me happy which matters in a year where I wasn't just dealing with COVID-19 and all the disruption that caused but with the aftermath of my Mum's death in November 2019, the emotional effects of which continued long into 2020 (truth be told they're still there.)
So, yes, lots of new ornaments but they all reflect abiding pop culture passions of mine, new and old, and on a tree that is representative of what makes my pop-loving heart go round, I wanted as full a representation as possible.
And I got it and I'm happy in a year when there wasn't a lot of happiness to go around.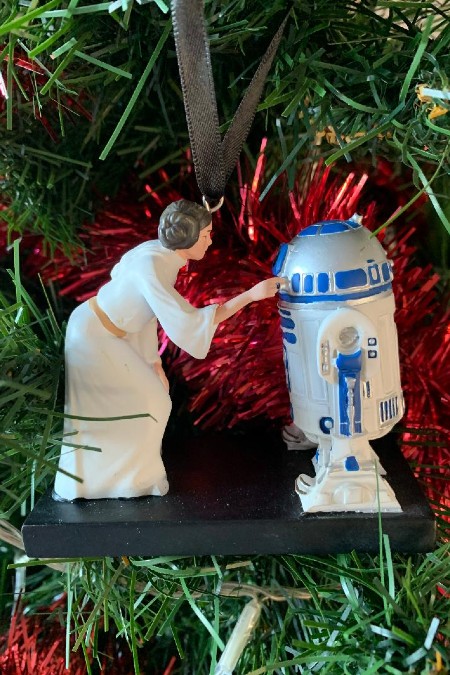 1. Princess Leia and R2-D2 (Star Wars: A New Hope)
One of my most enduring movie memories is going with my Mum in 1977 to a small one-screen wooden cinema in the main street of Ballina, in my ABBA t-shirt no less, to see what was then simply called Star Wars. It is now, of course, known as Star Wars: A New Hope, the fourth film in a nine-film known as the Skywalker Saga, but then it was a simple low budget sci-fi film that utterly and completely enthralled me. One of the scenes that I loved the most at the time was when Princess Leia, played by the incomparable Carrie Fisher, is programming R2-D2 with the all-important message for Obi-Wan Kenobi (Sir Alec Guinness) the replaying of which will not just change one young man's life (hello Luke; played by Mark Hamill) but the future of an entire galaxy. It's iconic and I'm thrilled there is now an ornament that captures that.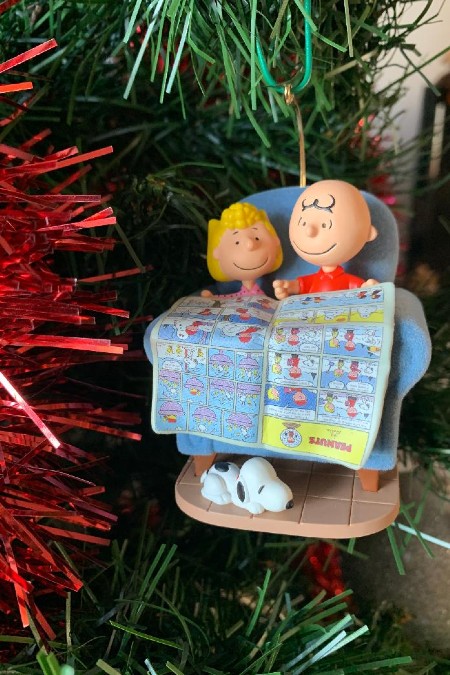 2. Charlie and Sally reading the Sunday Funnies (Peanuts)
It's not hard to fall in love with the simply but deeply heartfelt delights of Peanuts, and back in the '70s, I fell hard, spending considerable amounts of my hard-earned pocket money on paperback collections of the comic strips at secondhand bookstores, and collecting as much memorabilia as my budget allowed (read: not much but I've made up for that in recent years on eBay). Much of the appeal lay with Charlie Brown's role as the picked-upon outsider, something this much-bullied kid knew a lot about it and with which I could wholly and empathetically identify. My love of Peanuts was matched by my love of comic strips generally and I'd race to pull then then eight-page funnies section out of the two Sunday newspapers and devour them in one excited setting. So, an ornament that combines Peanuts and the Funnies is a delight of which I will never tire.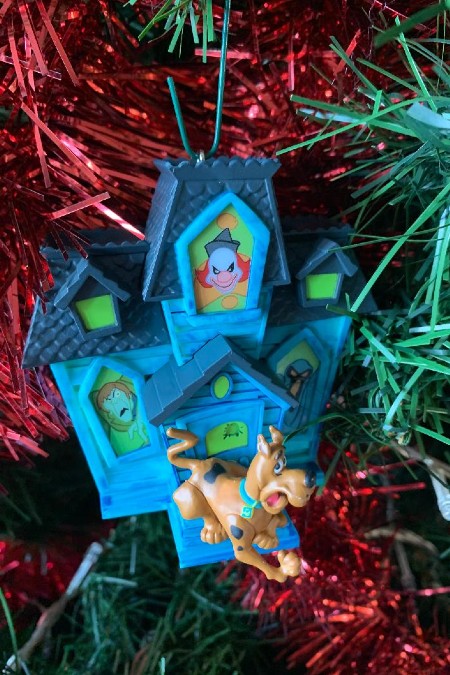 3. Scooby-Doo! (Haunted House Hijinks)
How can you not love Scooby? He's hilariously lovable, scared like anyone would be if ghosts and goblins and animated pumpkins appeared out of nowhere – it doesn't appear if they're all fake in the end; they're still scary! – and best pals with Shaggy who, rather sensibly priorities running and hiding over confronting the possibly supernatural apparitions. I fondly recall lying under the quilts on school holiday mornings watching Scooby-Doo, Where Are You! with my siblings and wishing I could be in there with him solving all the mysteries. My love for Scooby has never abated in the years since and his enduring place in my heart naturally merits another ornament devoted to this most human and grounded of dogs.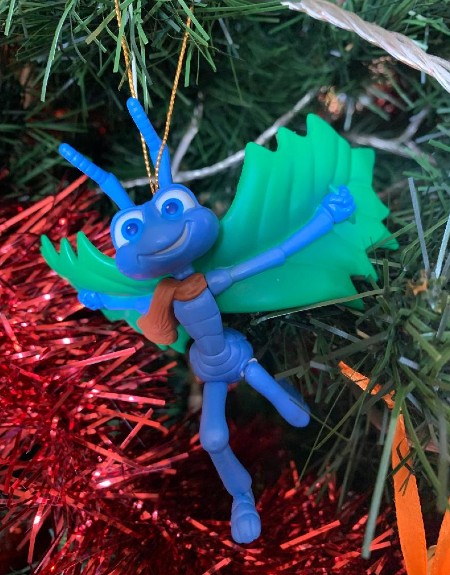 4. Flik (A Bug's Life)
There are very few Pixar animated masterpieces I don't love – Cars I am looking at you – with the films full to brimming with memorable characters, heartfelt plots that crush your heart and then build it up again, and visuals so imaginative you could happily dive into each and every one of them and be forever, colourfully 2D happy. While A Bug's Life is not in my top 5 Pixar efforts – all four Toy Story movies and UP claim those positions – it's up there with my favourites not simply because it tells a heartwarming story of people coming together to fight an enemy and win against all odds, and who doesn't love that kind of inspiration, but because it was one of the films that my brother-in-law and I bonded over one Christmas while we waited to see how our shared father-in-law came out of suddenly-required heart story.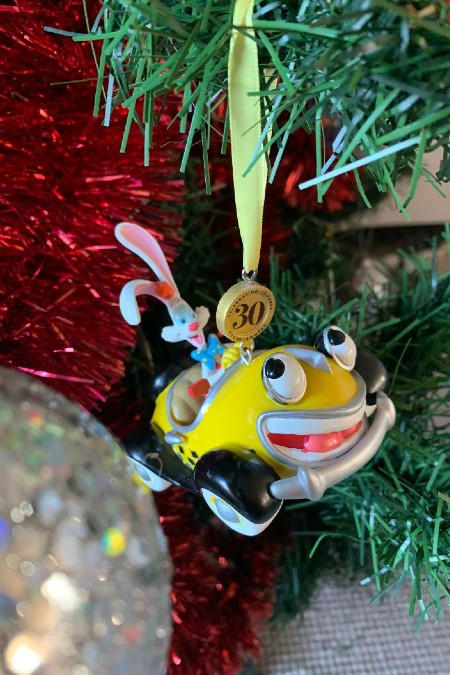 5. Roger Rabbit in a taxi
Who Framed Roger Rabbit? is one of the most imaginative, clever and emotionally evocative animated films I have ever seen. It is also very, very funny. Rewatching it for the film's 30th anniversary in 2018, it struck me again how supremely brilliant this film is, merging live action and animation, telling a wholly engaging story of a rabbit and a man who actually need each other more than they realise (especially to deal with the lingering and corrosive effects of grief, something I was struggling with at the time following my father's death) and be incredibly, amazingly one-of-a-kind. I already have a couple of ornaments related to the film but when you love a film this much, adding another one is a no-brainer.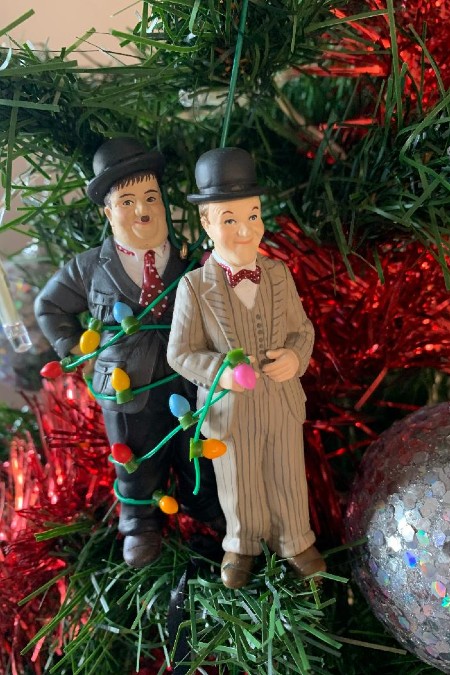 6. Laurel and Hardy
Back to the box of memories for this ornament whose main attraction is its reminder of the many lunchtimes I spent as a kid in the '70s watching Laurel and Hardy shorts – there are 79 of them, both silent and with sound – which were then broadcast on the national government channel, the ABC. The duo, who were firm friends and practically family in real life – their story is told in the wonderful film, Stan & Ollie – weren't just gloriously funny, they were emblematic of what real friendship and family looks like. They may not have always gotten along perfectly and there were plenty of issues between the two but at the end of the day, they loved each other and even when playing their personas on stage and film, that very much came through, increasingly their appeal all the more.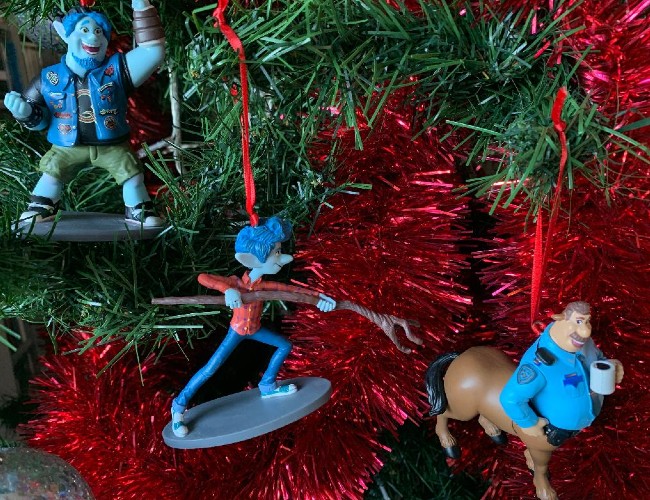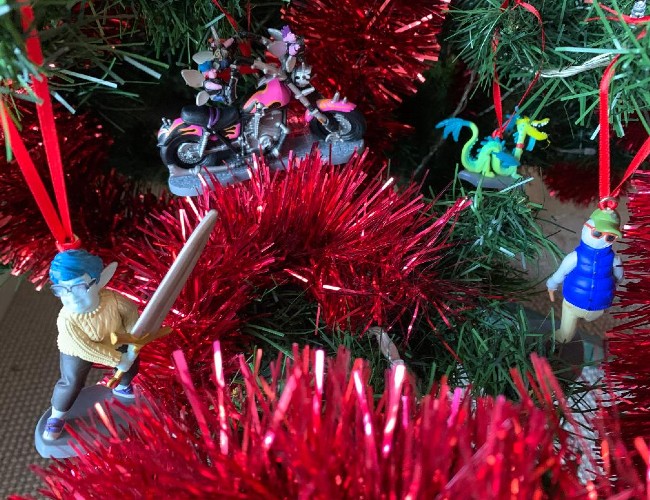 7. Onward
The newest Pixar film, well until Soul debuts this coming Christmas Day, Onward seized my heart from the word go. With COVID making it impossible to see the film in cinemas, Disney released the animated marvel onto its streaming platform and I rushed to see it because, in common with its stablemates, it evokes so much emotion in amongst clever world-building, beautiful animation and characterisation so rich and affecting that you instantaneously warm to Ian and Barley Lightfoot (Tom Holland and Chris Pratt) and desperately want them to get one last magical chance to be with their dearly-departed dad. The final act is a showstopper and if you're crying, then someone needs to see to your heart immediately.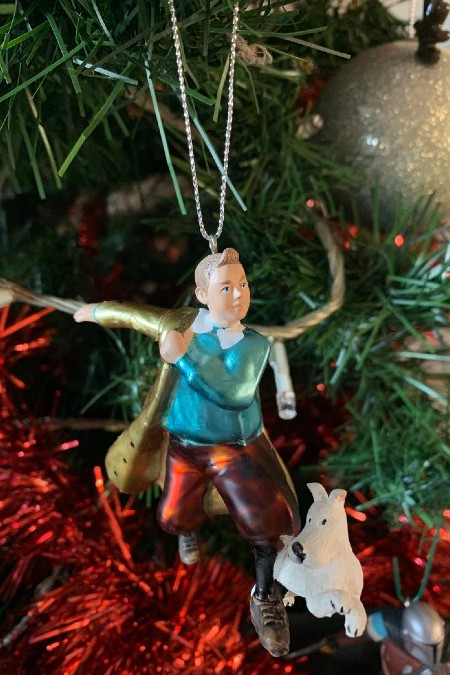 8. Tintin
Another character sprung with great affection from my pop culture-stuffed childhood – I swear I interacted with the real world occasionally! – Tintin from The Adventures of Tintin, the comics series by Belgian cartoonist Hergé allowed me to go on all kinds of amazing adventures as a kid to Congo, America, Tibet and all points inbetween as Tintin worked to make sure good triumphed over evil and fought for the underdog. I was constantly at the local library borrowing the books – the easiest option gift-wise was to give me one of his books to keep – and to this day I am grateful for Tintin for helping me to escape a bullying plague childhood with a cast of idiosyncratically fun characters who, good or bad, managed to make reality not feel anywhere near as oppressive as it actually was.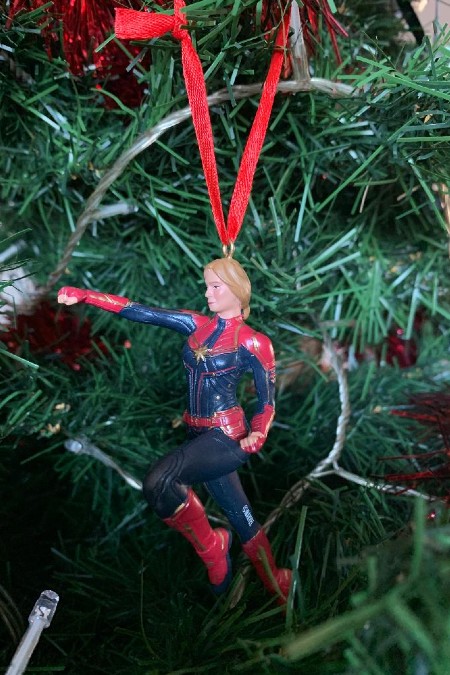 9. Captain Marvel
Surprisingly for someone who read lots of comic books and loved escapist adventure, I barely touched any superhero tales growing up. It wasn't that I was immune to their charms with a great deal of love for Aquaman, Wonder Woman and the team from Super Friends but somehow I never ended up reading lots of the superhero comics that were practically a rite of passage for most boys of my era. And yet as an adult I have devoured both Marvel and DC films with favourites like Black Panther and Captain Marvel topping the charts. So when it came to adding a superhero ornament to my tree, it had to be Captain Marvel who emerges in the film of the same name as someone to look up to, to cheer on and to be thrilled to spend time with, whether in miniature plastic form or not.
10. Elsa (Frozen 2)
I grant you that I am not among Frozen or Frozen 2's core demographic. That honour falls to my nieces and nephews, who though some of them are getting perilously close to ageing out of kids animated flicks, still happily to troop along to the cinema with their guncles (gay uncles) to see whatever animated film there is on offer. Last year's pick was Frozen 2, proof positive that sequels don't all suck and can often be brilliant stories in their own right and a worthy choice because it made me, rather sentimentally recall the first Christmas movie rip to see Frozen in 2013 with a niece and nephew so young that the three-year-old nephew fell asleep on my nap.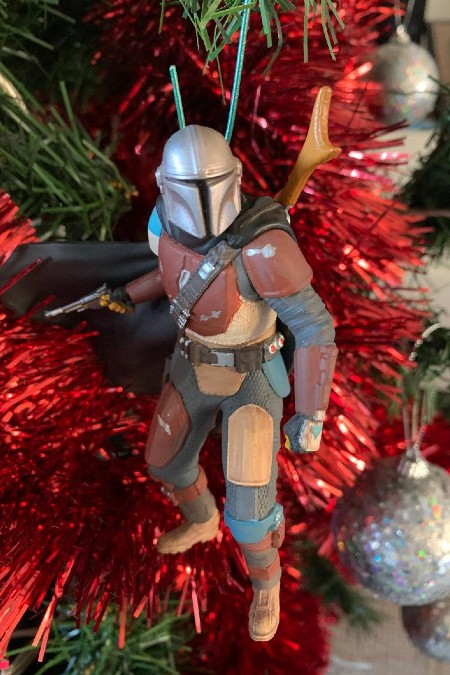 11. Din Djarin (The Mandalorian)
My lord, but isn't The Mandalorian one of the best series to come along in quite some time? It helps of course that it gives me a huge Star Wars fix which, as the first ornament on this list will attest, is always welcome and has been since 1977, but it's also quite brilliantly written drama that is vibrantly emotionally resonant, escapist and possessed of the one of the most powerfully transformative relationships I've seen in a show for a while between Din Djarin, the Mandalorian and the Child (whose actual name won't be placed here to avoid spoilers).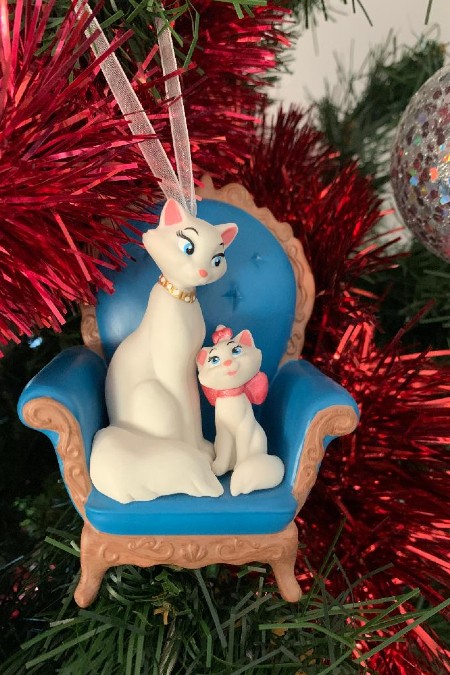 12. The Aristocats
I am a Disney animated feature nut. That applies to new and old animated efforts, with my love of Pixar demonstrated above (and in previous years), which means I am not simply powered by nostalgia but also by a love of great stories well told. However, there is something about delving into a movie like The Aristocats, a romantic adventure musical comedy which came out in 1970 and which tells the story of the wooing of Duchess the white Persian cat in 1910 Paris by lovable rogue Thomas O'Malley who saves his new love and her three kittens in more ways than one. It's a vibrant,, beautiful film that enchants to this day, some fifty years later.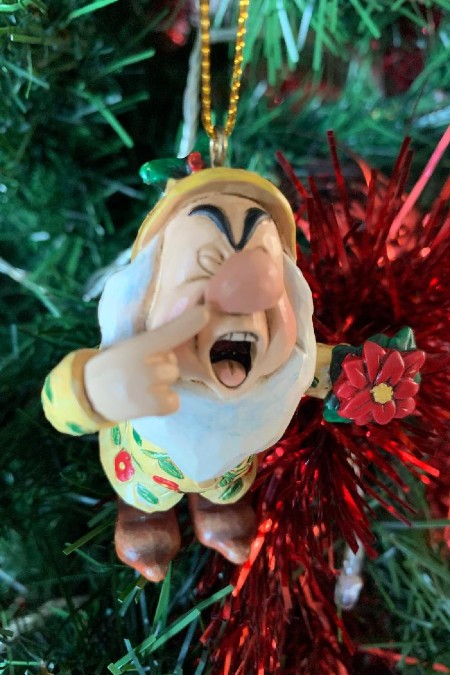 13. Sneezy (Snow White and the Seven Dwarfs)
Another Disney animation classic, Snow White and the Seven Dwarfs, which released in 1937, is proof positive that love will eventually win out and make life better for everyone. (Though not eating apples offered by old crones might speed things up a tad too; just saying.) What I love most about it though are the dwarfs themselves who add humour and affecting devotion to a film that is not short on all kinds of drama and which needs the humanity and the comedy the dwarfs, including lovable Sneezy bring. I picked up this ornament a few years ago in the small town of Tilba on the NSW South Coast but for some reason it never emerged from its box. It's finally free to do its "Hi Ho Hi Ho Achoo!" thing …
14. Ghostbusters
Confession time! I only finally watched the much-loved and iconic Ghostbusters film, which came out way back in 1984 in preparation for the release of all the all-female reboot in 2016 (which I love by the way). It was a lot of fun, and I enjoyed it thoroughly – although to be honest, I loved the reboot more which possibly makes me an outlier among Ghostbusters fans – and thought it was high time that this most playfully supernatural of series got some space on my tree.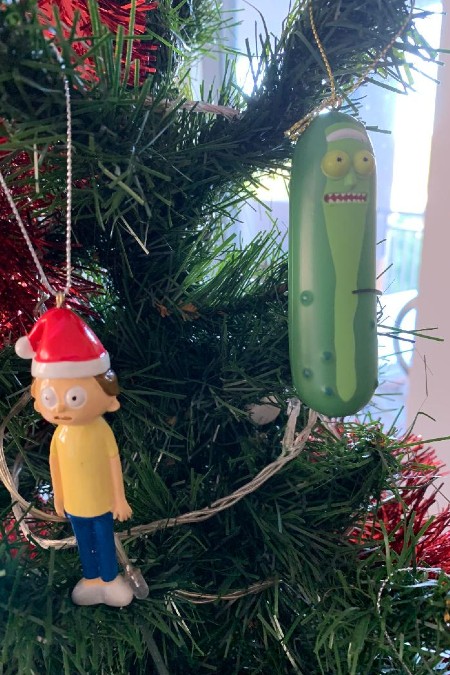 15. Pickle Rick and Morty (Rick and Morty)
I love oddball, quirky, wildly colourful and often surreal storytelling so the fact that I love Rick and Morty should surprise absolutely no one. It was one of those series I adored from the word go, not simply because of its emotional heart which centred on the relationship between a devil-may-care alcoholic scientist grandfather and his risk averse grandson, but because of its off the charts imaginative worldbuilding and utterly inventive storytelling courtesy of Community's Dan Harmon and Justin Roiland. These two ornaments come from two different sources (Rick from eBay and Morty from Typo, a fun Australian stationary store) but go together beautifully.