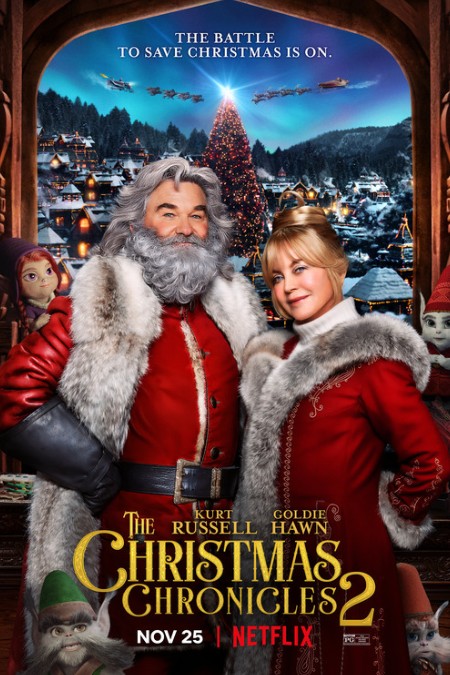 Christmas films, in common with just about every genre known to humanity, is rife with tropes and cliches.
That's not always a bad thing – used well, wisely and with creative originality, these standards of the genre can be a point of familiarity and access for audiences while allowing the creators to tell their own particular twist on a well-loved story.
Done poorly, however, and well, you might as well slap on the been-there, done-that T-shirt and be done with it.
Thankfully, The Christmas Chronicles 2, directed by Chris Columbus (Home Alone), does not need to fear obvious sartorial choices, opting instead to assemble its pieces of the Christmas movie pie in a way that feels vibrantly fun, endlessly heartwarming, and imaginatively enticing.
Two years after the events of The Christmas Chronicles, where a grieving brother and sister discovered there really is a Santa Claus, and more to the point, a reason to believe in life again, we find Kate Pierce (Darby Camp) and Teddy (Judah Lewis) on holidays in Cancun, Mexico with their mum (Kimberly Williams-Paisley), her new guy Bob (Tyrese Gibson), and his earnestly sweet son Jack (Jahzir Bruno).
By every measure, she's on a dream Christmas vacation but Kate is not happy, wishing she was back in Boston making snowmen, going to festive parties and doing Christmas as it is meant to be done.
Kate is also resentful of Bob, who's clearly a genuinely nice guy, because he's not her dad, can't stand Jack who wants to be buddies in his own intensely charming and nerdy way, and can only see terrible things coming from her mum's new shot at romance and life.
She is, in other words, ripe for some redemptive Christmas-ing which is, it will not surprise you to learn exactly what takes place.
This is where The Christmas Chronicles 2 really comes into its own.
Unlike another 2020 entry in the Christmas cinematic canon, Dolly Parton's Christmas on the Square, which, though earnestly sincere feels overly contrived and forced, The Christmas Chronicles 2 effortlessly lets loose its effervescent belief in the transformative powers of the season, having a riot of heartwarming fun along the way.
In no time at all, Kate and Jack, find themselves in the snowy climes of the North Pole, thanks to an angry ex-elf named Belsnickel (Julian Dennison) who, thanks to a whole lot of anger and destructive fury towards Santa and Mrs Claus (Kurt Russell and Goldier Hawn in sparklingly vivacious form), has transformed into a thoroughly nasty human who wants to take down Christmas in a big way.
Using Kate to get entry into Santa Claus's village – turns out that Mrs. Claus actually designed the place, with its 300,000 stores and a cinema that only screens Elf, which prompts Jack to remark that it should be called Mrs' Claus's Village; strike one for festive feminism! – his plan is to steal away or ruin everything that makes Christmas special, or happen at all really, and establish his own kingdom of, well, whatever it is, it won't be pleasant, it won't feature candy canes and may injure a reindeer.
Sounds like a bundle of fun, doesn't it?
Clearly, it won't be remotely enjoyable with his actions likely ruining Christmas, not just for this year but forevermore; it's time to stop him but will everyone succeed in this time-sensitive, urgent act and will the spirit of the season grip the world in its red-and-green hold once again?
Of course, it will – this is a Christmas film; no chance of a moody, half-finished French art film ending here (which by the way, are wonderful, just not very Christmassy on the whole).
It is what The Christmas Chronicles 2 does with this well-set out plot and the various tropes and cliches that festoon is like popcorn garlands that really makes it come alive and which turns it into a sequel that should not fear having that label slapped upon it.
The festive transformation machine whirs into feverishly delightful action with Kate and Jack embarking on their own transformative journeys – Kate's is particularly authentically affecting in a way that most films of the genre don't quite manage to effect – and coming out the other side, having made peace with their respective juvenile demons, and ready to enjoy the good and wonderful things in their grasp.
Santa Claus, who can belt out a tune and does at Logan International Airport in Boston in 1990 – shhh, it's a Christmas movie where anything is possible and joyfully so, epically so – and Mrs. Claus play crucial roles in bringing out these changes in Kate and Jack, as they race to restore the North Pole to its former toymaking, elf-dwelling technicolour, vibrantly happy glory.
What makes The Christmas Chronicles 2 so different to many of the films in its tinsel strewn genre is that it is possessed of a real beating heart beneath all the fur-trimmed red and fantastical festiveness.
It more than looks the part, with Mrs Claus's Village in particular looking a like a wonderland of Christmasness, but dig down past the happy elves and the flying reindeer, the cosy beds and the shimmering borealis that protects the home of Santa Claus from discovery by the outside world, and you have a film that understands that real humanity is at work in even the most magical of situations.
Even Mrs. Claus gets in touch with her inner hurt and pain, and by the end of the film, it becomes apparent that while reindeer can be revived by some judiciously-manufactured Christmas spirit, in an airport no less, people require a little more real loving and understanding to truly get themselves right with their families and the world around them.
The Christmas Chronicles 2 manages to accomplish all this therapeutic wonderfulness without falling into a great big slush pile of festive treacle, giving us all the buoyant, joyful, most wonderful time of the year happiness without sinking us beneath the weight of overly-earnest sentimentality.
That's quite a feat, as is saving Christmas, and there is not a second in this wildly full-on, giddily action-packed, heartfelt piece of near-perfect festive storytelling where you aren't laughing, oohing and aahing in glittering wonder or feel your heart swell with painful and joyful recognition (depending on the moment) and clapping your delight as the sheer merriment and change-making possibilities of the season.