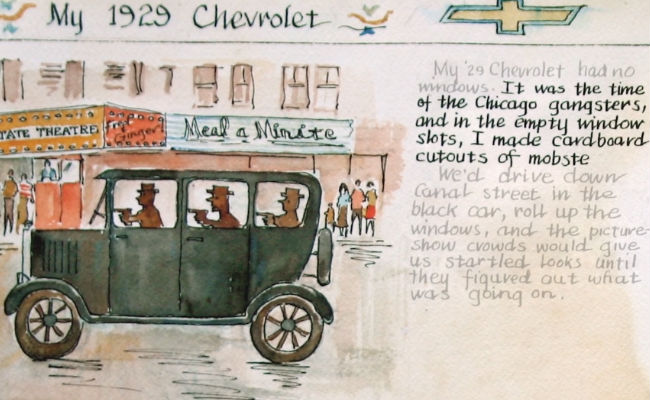 SNAPSHOT
…the memory book was different. It was like all his sketchbooks compressed into one — an impressionistic retrospective stretching back to early childhood. There were stories of long-lost friends next to struggles at work, moments of historical significance flowing into prosaic family vignettes: kaleidoscopic portals into moments of my grandfather's life. (via Laughing Squid)
When my granpa died almost twenty years ago, I, like so many people before me, realised that I didn't know anywhere near as much about him as I wished I did.
We'd talked sure but I still didn't fully appreciate the length and breadth of the life of a man who was warm, rich, friendly, funny and talented at baking, a man who talked to me like I was his equal at an age when few people did.
So I can well understand the joy of artist and filmmaker Colin Levy when he came across his grandfather Byron's series of memory books in which he, a talented artist like his grandson, had chronicled and illustrated so many key parts of his life.
It opened not only an unexpected and much-valued window on his beloved grandfather's life, but helped Colin to understand better his own life as an artist.
As treasured gifts go, they honestly don't come much better.